The Food Program aims to build a world worth aspiring to: where disposable foodware no longer contains toxic ingredients like PFAS or styrene—and as a whole—disposables diminish their prominence in our lives and in our landfills. 
Over the last four years, CEH has become a leader in providing scientific and procurement advice on healthier, environmentally preferable foodware options. By creating resources like GreenScreen Certified™ Standard for Food Service Ware and the Ditching Disposables Toolkit for K-12 schools, our work is transforming the $19 billion global food service disposables market.
Learn more about Foodware and foodware procurement. 
Hold the Plastic, Please: Reusable Food Tray Project Reduces Waste and Toxics
The fall 2022 school year brought a new reusable food tray program to public school Anna Yates Elementary, saving more than 50,000 items from landfill in one year.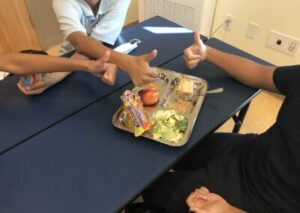 The project was a joint effort from CEH's Food Program plus StopWaste Advisory Group in Education (SAGE), and Plastic Free Restaurants together with the City of Emeryville, Emeryville Unified, and Ahimsa, makers of stainless steel foodware.
Reusables eliminate many of the concerns associated with single-use foodware, such as exposure to toxic chemicals like PFAS and styrene, increased waste production, and recyclability or compostability issues.